Mara Tapp, Founder and Director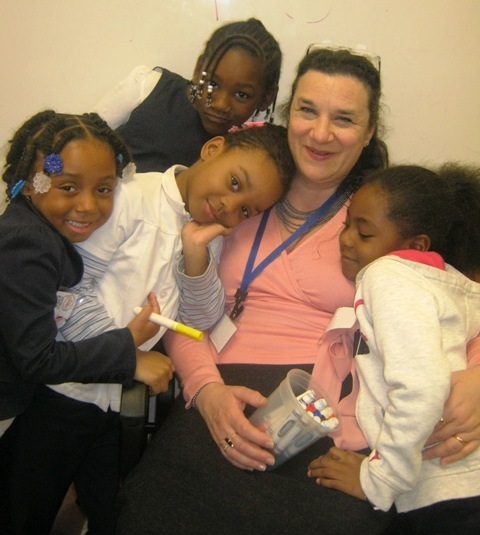 An award-winning journalist and broadcaster for more than 30 years, Cool Classics! Founder and Director Mara Tapp's work has appeared in Chicago magazine, the Chicago Reader, the Chicago Tribune, the Chicago Sun-Times, Catalyst, Bookforum and Playbill, on many public radio and television broadcasts, as well as on public access television. During the seven years she spent doing The Mara Tapp Show on WBEZ, Chicago's National Public Radio affiliate, she had the privilege of interviewing children's authors including Eric Carle, Tomie dePaola, Madeleine L'Engle, E.L. Konigsburg and Maurice Sendak.
More than a decade ago, Tapp added teaching to her professional activities and is proud to be a substitute teacher in several Chicago Public Schools, including the one where her daughters began their formal education. Tapp also taught students how to think and write critically about a wide range of arts and culture in the graduate program for New Arts Journalism at the School of the Art Institute and at Columbia College Chicago.
Cool

Classics, Inc. Board of Directors
Hon. Marilyn F. Johnson, President
Judge, Retired, Juvenile Division, Circuit Court of Cook County
Former General Counsel, Chicago Public Schools
Amal Amin, Treasurer
Of Counsel, Mallon & Johnson
Former General Counsel, Advanced Equities Financial Corp.
Former Senior Enforcement Analyst & Senior Surveillance Analyst, Chicago Stock Exchange
Mariana Calderón
Senior Analyst, U.S. Government Accountability Office*
Kindergarten Teacher, Teach for America Corps Member,
Clyde C. Cox Elementary School, Las Vegas, NV
*Ms.Calderón's participation and views are hers alone and are not intended to reflect the institutional views of the U.S. Government Accountability Office
Mara Tapp, Secretary
Cool Classics, Inc. Founder and Director
Former Host, The Mara Tapp Show, WBEZ, Chicago's National Public Radio Affiliate
Former Part-time Faculty, School of the Art Institute of Chicago and Columbia College – Chicago
Alaka Wali
Curator of North American Anthropology
Applied Cultural Research Director, Environment, Culture and Conservation
– The Field Museum
Cool Classics, Inc. Advisory Council
Ronne Hartfield
Former Executive Director, Urban Gateways
Former Woman's Board Endowed Executive Director for Museum Education, Art Institute of Chicago
Former Dean of Students, School of the Art Institute of Chicago
Author of Another Way Home: The Tangled Roots of Race in One Chicago Family, University of Chicago Press 2004
Linda Lenz
Founder and Former Publisher, Catalyst Chicago
Former Education Reporter, Chicago Sun-Times
Former Editorial Writer and Reporter, Chicago Daily News
William B. McClellan
Former Director, Arts Academy, Ray & Joan Kroc Corps Community Center, The Salvation Army
Former Music Curriculum Supervisor, Office of Arts Education, Chicago Public Schools
Former Managing Director, CPS All-City Groups and the Contests
Former Principal Conductor, CPS All-City HS Band
Former Chicago Band Chair, Illinois Music Educators Association, Chicago Public Schools
Leah Marcus
Former Columnist, Chicago Sun-Times Education Guide
Former President, Oak Park River Forest High School District 200 Board of Education
Mark Rodriguez
Chief Operating Officer at Elements Holdings Group and Subsidiaries, Elements Holdings Group & Subsidiaries
Former Executive Director, Changing Worlds
Former Associate Director of National Recruiting and Admissions and Chicago Program Operations, New Leaders for New Schools
Bernice Weissbourd
Founding President, Family Focus